Signed Safety Check orders will populate on the Whiteboard and MAR, allowing assigned staff to easily see when check times are approaching.
Create a New Order, using the steps under How to Create a New Order for a Client.
When selecting an Order, select a recurring Safety Check or S&R Safety Check as the Order type.
Complete required fields.

Select a priority and set start date and time. If applicable, set an end date and time. Optionally, add comments.

Click Insert to add the Order to the Order List.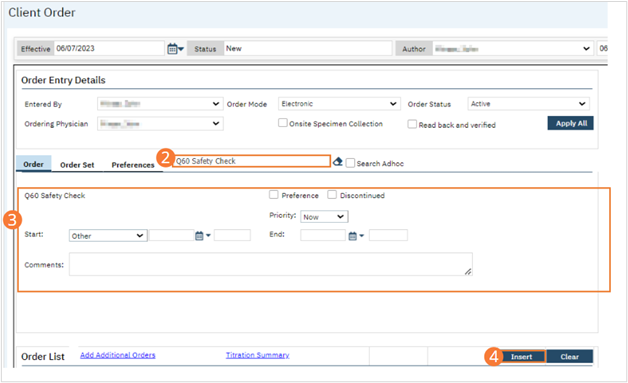 Click Save.
Click Sign and complete signature of the document. For more information, see How to Sign a Document.
When documenting an order on behalf of a Prescriber, the Prescriber must be added as a co-signer and must complete their co-signature. For more information, see How to Co-sign a Document.